Nano Crystallized Ceramic Glass is a kind of polycrystalline solid material obtained by the control of specific composition and temperature, it has excellent physical and chemical properties, such as wear resistance, corrosion resistance, compression resistance, color adjustable, small color difference, high gloss, and no radiation. In the field of architectural decoration, it can replace natural stone, cast stone, ceramics or others. Its indicators meet the national A-level product requirements, thus it can be widely used for building exterior decoration, interior decoration, or other featured furniture.

By using the international advanced glass ceramic production technology(float process technology), our products are with high quality, large size,thin thickness, excellent performance and so on.

Features of Nano Crystallized Ceramic Glass Panels
01. Environmental friendly
Glass ceramic is a new and high-grade healthy building and home decoration material which produced by green and high technology, without any harmful substance or radioactive elements , and it is recyclable.
02. Energy saving
The material features of the ceramic glass make it with heat preservation and insulation functions when it is used for large areas such as building walls inside and outside, or floor decorations .
03. Good appearance
Glass-ceramic can be made with white, beige, yellow, brown, red, black or other colors, which has a soft
jade texture and similar to the natural texture, color is softer than natural stone , more delicate,
glossiness level is 1.2-1.5 times higher than granite and marble.
04. High durability
The density of the ceramic glass is close to nanometer. It is wear-resistant and stain resistance.
Its hardness and anti wear resistance feature are better than the natural stone and ceramic tiles. And due
to its water absorption is zero, the stain resistance feature is the best among all building decoration
materials. Moreover, as it is with high acid and alkali resistance characteristic, so the durability of the
surface color and quality is excellent even with a long period of exposure to wind and rain.
05. Heat-resistance and fireproof, safe
When glass ceramic is used as a furniture countertop, it can be resistant to 150 ℃. And when it is used for the interior and exterior decoration, Its 900℃ melting temperature may efficiently prevent fire spreading in a period of time, its fireproof performance can meet the national A1 standard.
06. Regular and Customized specifications
Variety of specifications and types available, with large size and thin thickness. Regular slab size we have now: 2400x1200, 3000x1200, 3000x1550, 300x1600, 3200x1600 etc. The dimension can be as large as 1500mm * 2500mm, and thickness as 3, 5.5, 8.5, 15, 18mm.
At the same time, by hot-bending, inkjet printing, hollowing, embossing, or engraving, it can be processed into unique decorative products as customized.
07. Various plain colors and Inject printing marble colors:

Pure Colors: Pure White, Pure Beige, Pure Light Grey, Pure Dark Grey, Pure Black, Pure Red,
Inject Printing Marble look: Calacatta White , Grey Marble, Onyx pattern etc. are available.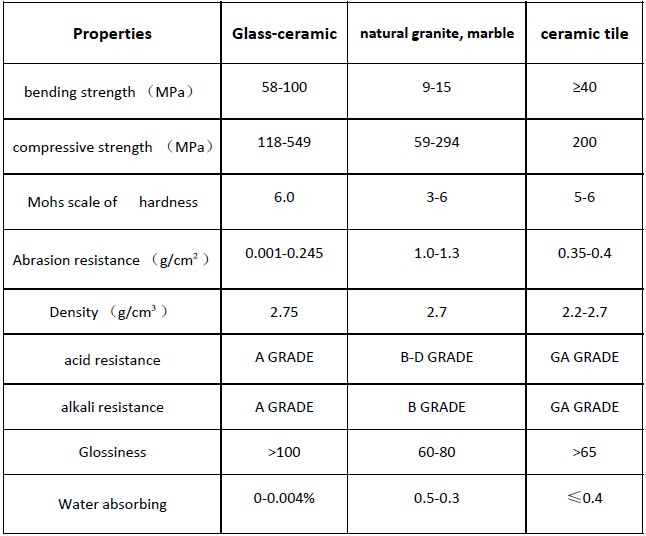 Inject Printing Nano Ceramic Glass Panel book matched pattern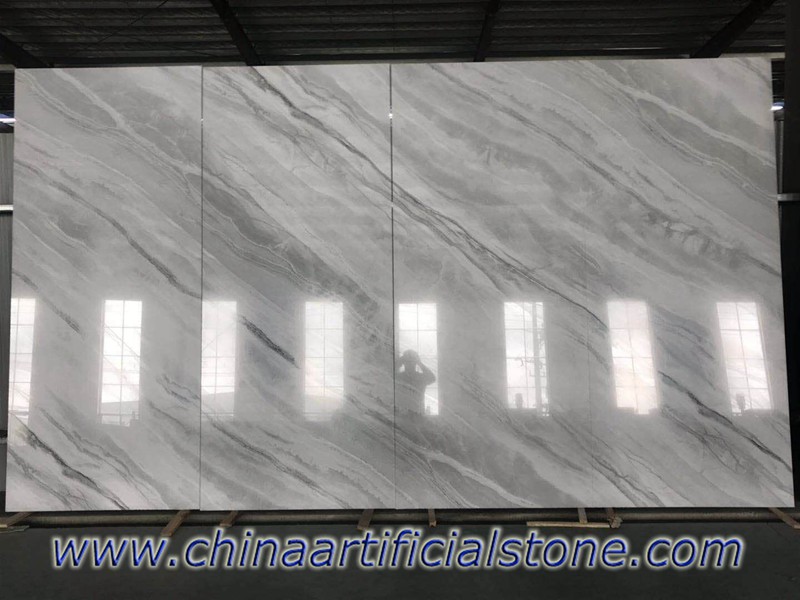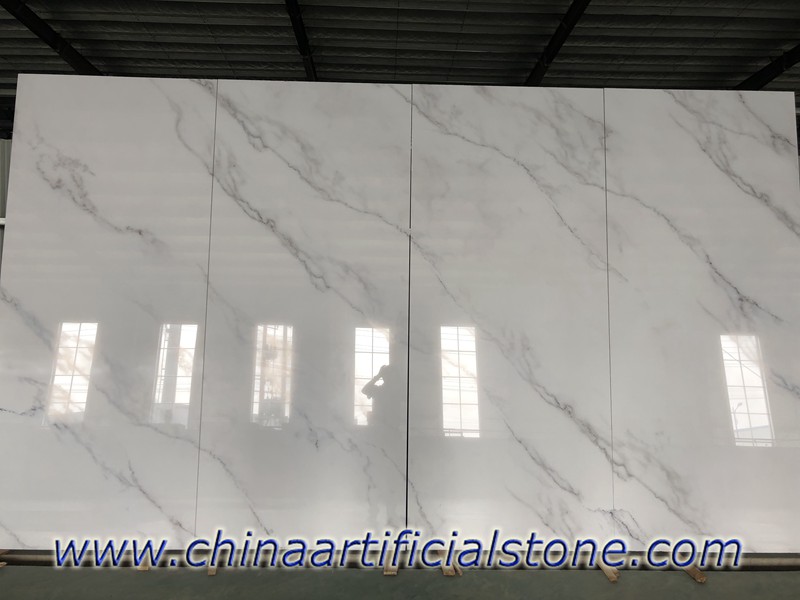 Plain Color Nano Ceramic Glass , White, Beige, Grey etc.