Gemstones Semi Precious stones are the gift of the earth, they are not just for Jewelry, they can be wide used for interior house decoration. How to make it to tiles slabs as decoration materials is our main responsibility. There are many kinds of Semi-Precious Stones, translucent or opaque for different decoration effect for Choice
We are the Gemstone Semi Precious Stones Tiles Slabs Countertops manufacturer and exporter. We supply wide range Gemstone Semi Precious Stones slabs colors for various kind of projects for all over the world.
1. Translucent Gemstones / Semi Precious stones:
Agate Series: Agate is a translucent variety of microcrystalline quartz. It is used as a semiprecious stone when it is of desirable quality and color such as Blue Agate, Dark Grey Agate, Light Grey Agate, Black Agate, Red Agate, Green Agate, Yellow Agate, Purple Agate, Multicolor Agates etc.
Quartz and Crystal etc.: White Quartz / White Crystal, Rose Quartz / Pink Crystal, Amethyst / Purple Crystal, Smoky Quartz / Grey Quartz, Purple Fluorite, Labradorite, Sodalite Blue Jaspe, Blue Veins, Blue Aventurine, Green Fluorite, Crystal Jade, Coral Fossil etc.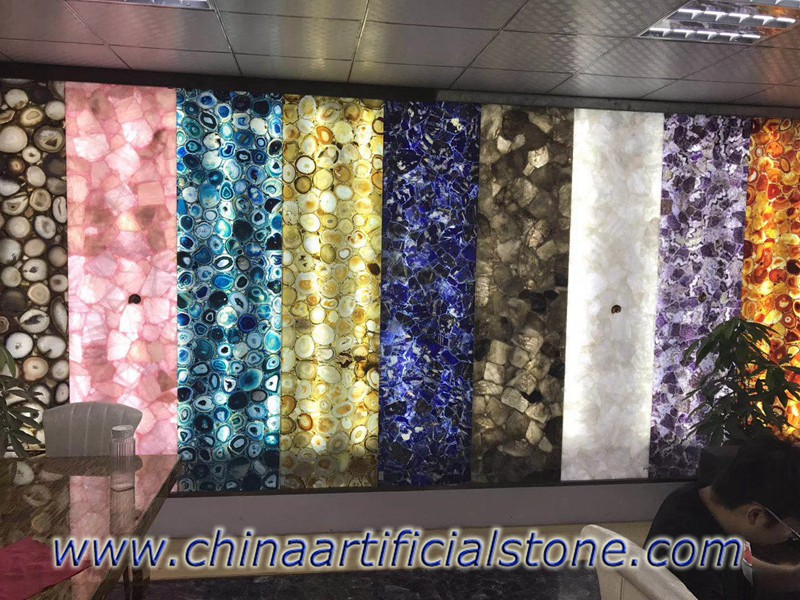 2. Opaque Gemstones Semi Precious stones:
Petrified Wood, Tiger Eye, Lapis Lazuli, Malachite, Tiger Iron, Multi Red Jasper, Red Gemstone, Green Aventurine, Turquoise, Tourmaline, Green Jasper, Crystal Jade, Chrysanthemum Fossil, Picture Stone, Picture Fossil, Red Jade, Blue Jade etc.
For detailed colors information please refer to our website: www.chinaartificialstone.com/semi-precious-stone-slabs, contact Alice Cheung by info@chinaartificialstone.com, or whatsapp 008618046239265